Category Archives:
Uncategorized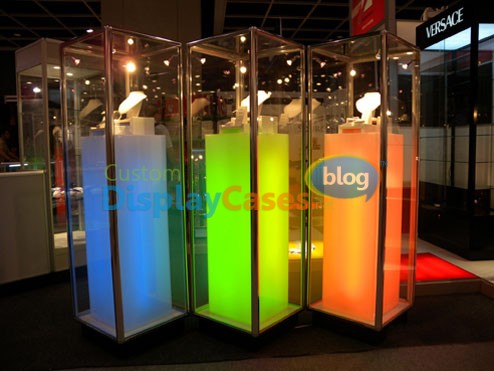 All our factories are equipped to manufacture showcases and display cases in any size and following your requirements. The height, width and depth of each one can be of the dimensions that your project requires. Each of the showcases has an exhibition area made of glass, which can also be made in the sizes you specify. It is also possible to add additional glass shelves to each of our showcases, counters and displays. In models that include LED lighting it is possible to add puck lights, spots or bar, all according to your needs. The base of all our showcases can be made higher or lower, according to the requirements of your project. The designs of our cabinets allow to add options such as covers of mirror-type tags, drawers, mirror doors or jewelry boards, in our showcases and displays. If you want more information, call us, our assistants will attend you.
For every clothing store, visual order is something that needs strategy to create an attractive view. The seasons are long. So it is good to create a dynamic of change every two weeks. When our regular customers enter our store and we have not changed the visual merchandising for weeks, they have the feeling that the time has frozen and there are no news in sight. We could have been placing the new order all morning, but if it is not exposed in a way that catches our attention, our work would have been useless.
To organize the clothes in a clothing store we need to analyze our furniture, our space, and see if we need perhaps some new showcases. The display racks are very useful as we can change them each time and allow an infinite combination of possibilities. There is always a need to try to combine the exhibitors with the larger collections, complete them with smaller collections such as accessories (handbags, jewelery, shoes, scarves, glasses, etc.). This way we will be creating a new service, that of offering a wide possibility to our clients to combine a garment with another element that will complete their look.
Colors are also very important when organizing garments in a fashion store. The clothing collections come with seasonal colors and we must know how to combine them according to the attractiveness that we think it will have on our clientele. It is always better to use three colors and play with each other with them. We will also take into account the number of garments that we will put on each rack, since it is not good to overload, it makes visibility difficult and it tires the customers.
Therefore, the keys to organizing garments in a clothing store are:
1. Realize that fewer elements favor the visibility of others that will be more successful.
2.Combine the colors in an intelligent and effective way
3. Place accessories next to the garments to help our customers to have a global vision.
4. And above all, have fun creating the new look. Doing and undoing, designing combinations and changing our workspace!